The Deccan Odyssey's two gourment restaurants,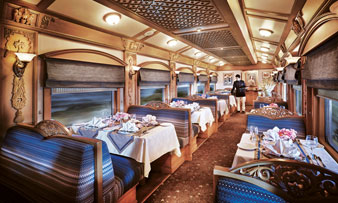 Waavar and Utsav have been designed to keep the element of Indian royalty intact. Our chefs ensure the cuisine keeps pace with the train's journey, by creating local specialties of the very state that the train travels through. So you discover every location with all your senses, including your taste buds! Each meal also includes an International menu to choose from. In order to further enhance the gourmet experience, Deccan Odyssey presents travelers with a well-stocked bar - Gateway. This is the ideal spot to meet and know your fellow travellers, over an evening drink & snacks..






The Deccan Odyssey comprises of 21 superlative, royal coaches. Each coach has 4 spacious cabins. Each alternate coach has a common lunge. Each cabin is qquipped with every modern amenity to make sure that your journery is comfortable and memorable. The Deccan Odyssey also offers four resplendent Suites with exquisite decor and all modersn amenities. The Deccan Odyssey also offers cabins for guests eith special needs, designed keeping in mind thire special requirements, with 30-inchwide door frames all amenities within easy access.






The delightful spa, Ayush, with well-trained massuers help you relax your body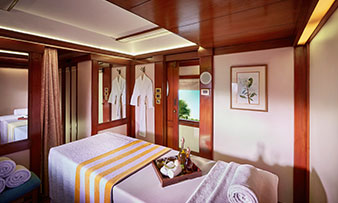 after a long day of exploration. Using ancient Indian techniques and skills, the salon is a great place for some pampering and sprucin up. The confernce coach is equipped with all that is needde for meetings and discussions. Our hand-picked staff members are always at hand to provide you with every services and take care of all your needs, makoing your journey relced and trouble-free. Attendants are available round- the- clock, one for each coach and one each for every Suite. .




Facilities :
Presidential Suite can accommodate 3 adults within the same cost
Full Train is wifi enabled
LCD televisions installed in all the cabins
Two restaurants: Peshwa 1 & Peshwa 2
One Spa & Salon: Spa Plumeria
Dedicated valet service for each coach
One conference cum recreation coach: Samvad
All of which make your journey a memorable experience