The Royal Orient


The Royal Orient, Train is not Operational Now,
For Another Luxury Trains Click Here

India Palace on Wheels :: The Golden Chariot :: Royal Rajasthan on Wheels
Tour Programs • Tariff • Book This Tour
Welcome abroad The Royal Orient !
Welcome to a rare delight, a special experience. Rare because in our fast-paced lives, it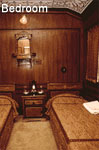 is not often that we can take time off to unwind and taste the pleasures of our own culture. Special, because your journey will take you and your family back in time : to the age of the Maharajahs. To carry you There is The Royal Orient-one of the world's most exotic trains.

Weave through two of India's most culturally fascinating states, Gujarat and Rajasthan. Cross the great Indian desert at nights, and take day trips to fascinating places by luxury coach. The Royal Orient will transport you to palaces and forts steeped in legends of heroism and chivalry. You will feel the spirituality of an ancient Jain temple city. You will soak your feet in the warm waters of the Arabian Sea and Laze on the beach. You will safari in jungles to see the only lions outside Africa. You will shop for exquisite handicrafts as old as history in shops blaring Michael Jackson music.


The Royal Orient has been provided with personalised service that only royalty was privileged with. A cuisine truly fit for kings and queens. Thirteen coaches and saloons, inspired from mighty kingdoms.

A joint venture of the Tourism Corporation of Gujarat Ltd. and the Indian Railways, The Royal Orient promises you seven memorable days and nights. Days and night that you will always remember and cherish. Waking up to see the Aravali range spanning the horizon. Watching the moon lift slowly up through the twilight to glimmer on domes and minarets of a bygone era.

Facilities available:



Air-conditioned ambience that keeps the temperature down to 15 degrees.
The watering Hole Bar with all your favorite drinks and some new ones too.
Running hot and cold water, spacious baths, clean and comfortable cabins, furnished better than many 5-star hotels. Multiuse restaurants to tickle your taste buds. A library if you're looking for a truly quiet, laid-back time.
The Royal Orient, Train is not Operational Now, for another Luxury Trains Click Here

India Palace on Wheels :: The Golden Chariot :: Royal Rajasthan on Wheels